JEI English provides an easy to grasp program for grades Pre-K to 9. The program
progresses in small steps and makes learning engaging and effective.
The workbooks are designed to provide a strong foundation in grammar,
vocabulary, and reading skills. The study program is created for each student
through an individualized schedule of selected workbooks. At the end of
each weekly workbook, there is an interim test for the concepts covered to
ensure understanding.
The JEI English curriculum is aligned
with the State Standards,
covering all major domains such as readiness, phonics,
reading, communication, grammar, and information.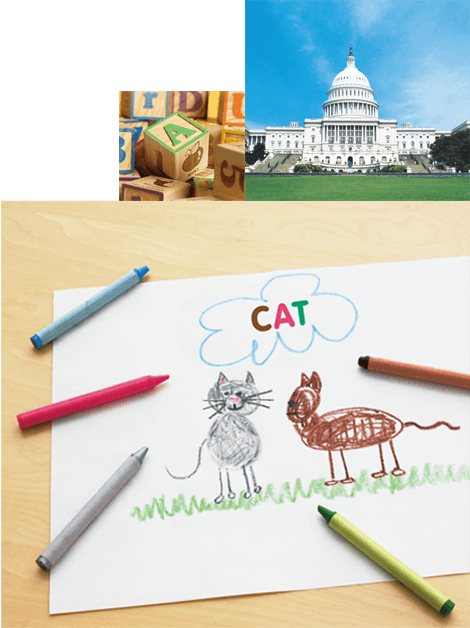 Key Features of
JEI English
1

Grammar skills are
introduced and
practiced.

2

The weekly assessment
concepts covered to
ensure understanding.

3

The same skill is
practiced using the
contents from the
short story.
English Level
Level AA
Literacy Skills

Alphabet letter names, forms, and sounds
Matching uppercase letters to lowercase letters

Vocabulary Building by Letter

Key target words for every letter

Writing

Fine motor skills, tracing, writing uppercase and lowercase letters

Reading

Stories and story songs for every letter
Develop comprehension and literacy skills through interactive fun activities
Level A
Recognize and write lower and upper cases of alphabet letters
Learn initial consonant and initial short vowel sounds
Learn middle short vowel sounds
Learn final consonant sounds and form CVC words
Build vocabulary by given topic
Sight words to practice key vocabulary(ex: and, the, in, or, etc.)
Level B
Learn the sounds of initial R-and L- blends, and final blends
Learn long vowel sounds along with vowel combinations
Start grammar lessons with parts of speech
Learn to distinguish different types of sentences
Learn to proofread and start the writing process
Decodable stories to incorporate previously learned skills
Level C
Learn about the different types of nouns (person, place, or thing)
Learn different verb tenses from simple tenses to perfect tenses
Learn adjectives and adverbs, and comparative & superlative forms of adjectives
Learn how to form a paragraph and find the main idea of a paragraph
Learn how to use dictionaries and alphabetical order
Introduce synonyms, antonyms, homophones, and analogies
Incorporates previously learned skills into short stories
Level D
Introduce indefinite pronouns, articles, and determiners
Subject and verb agreement of a sentence
Differentiate between main and helping verbs in a sentence
Form words using prefixes and suffixes to expand vocabulary
Learn different ways to use comma - dates, cities, or series in a sentence
Introduce abbreviations and usage of an apostrophe
Learn to distinguish fact vs. opinion and real vs. imaginary
Learn key words to tell why actions happen
Short stories to practice reading comprehension
Level E
Defines four different types of sentences: Declarative, Interrogative, Imperative, and Exclamatory sentences
Learn to write simple or compound sentences and avoid using run-on and stringy sentences
Learn regular, irregular past, and past perfect verb tenses
Introduce persuasive writing and following directions
Review problem or confusing words
Introduce simile, metaphor, and personification
Identify topic sentences and practice outlining the paragraphs
Level F
Introduce demonstrative, reflexive, and intensive pronouns
Introduce infinitive verb forms
Learn coordinating and subordinating connectors
Tell time order of sentences by using adverbs of time
Introduce different genres of writings: novel, comedy, play, mystery, etc.
Learn to read writer's point of view and predict future from the writing
Learn how to write titles of books, magazines, songs, short stories, etc.
Level G
Introduce complex sentences with subordinating phrases
Present different kinds of nouns: concrete, abstract, proper, common, and collective nouns
Learn interrogative, subjective, objective, and possessive pronouns
Differentiate direct / indirect object of a sentence and distinguish transitive / intransitive verb of the sentence
Introduce prepositions and prepositional phrases
Learn to use context clues to find the meaning of a word
Introduce clipped and blended words
Usage of reference materials: encyclopedia, almanac, or newspapers
Level H
Introduce kinds of nouns, comma, appositive, plural nouns, possessive case, kinds of pronouns
Learn direct objects, predicate adjectives, present/past participles, "to be" verbs, verb agreement, irregular verbs
Learn comparatives and superlatives
Introduce sentence types, subjects/predicates, sentence structure, kinds of clauses
Lean clipped/entry/guide words, pronunciation, double negatives, problem words, poetic elements
Learn supporting details, topic sentence, descriptive/persuasive paragraphs, exposition, types of writing
Level I
Introduce complete predicates, compound subjects, compound predicates, simple subjects, simple predicates
Learn types of verbs, verbs: agree with subject number, verbs: agree with sentence tense
Introduce present progressive tense, past perfect tense, past progressive tense, future progressive tense, perfect progressive tense
Learn avoiding double negatives, prepositional phrases
Learn problem words, identify prefixes, outlining
Learn to use context clues to find the meaning of a word
Usage of homophones, table, circle graphs, bar graphs, line graphs
Level J
Learn phrases/ clauses, subordinating connectors, adjective clauses, noun clauses, adverb clauses
Learn present / past participles, participial phrases, misrelated participles, gerund phrases, infinitive phrases, prepositional phrases
Learn active voice / passive voice, Indicative/ subjunctive mood
Usage of fact or opinion, stating and supporting an opinion, telling comparison and contrast
Introduce purpose and audience, finding and narrowing a topic, skimming, taking notes, outlining
JEI Learning Centre International
JEI is a leader in global education and has been helping children for over 40 years in achieving academic success.