Commemorating our 28th anniversary with the very first JEI Director
March 23, 2020 marks the 28th anniversary of JEI Learning Center in the United States. After seeing incredible success in South Korea, JEI Founder and Chairman Sung Hoon Park took the company worldwide, opening up our first U.S. center in Valencia, California under Mrs. Su Kyung Yu. Twenty-eight years later, our centers have spread nationwide, popping up in other states, like New Jersey, New York, Texas, Georgia, and soon Florida.
To commemorate, JEI Headquarters (JEI HQ) reached out to Mrs. Yu and her son, Augustine, who has taken the reins as a second-generation director.
Mrs. Yu first learned of JEI Learning Center through the local newspaper. She was interested because of her background in education and the company's reputation for having a positive impact on children's education in South Korea. She was, in particular, drawn to our Individual Progress Prescription Report (IPPR) which analyzes each student's Diagnostic Test results to pinpoint their strengths and weaknesses. The IPPR is the key component in developing an individualized program for each JEI student. Mrs. Yu thought it was good to know the starting point for the children who come into her center.
She faced a lot of challenges in the beginning as the only center in the country, but she noted that, as the company expanded, the process became a lot smoother for new directors:

"It was only the West region at the beginning, and [HQ and I] worked together every month. We sat together to change this and that, all this to improve on mistakes. It was really good to work with them, and I was really happy working with JEI."
Mrs. Yu passed on her happiness about the JEI community to her son, Augustine, who took over as director two years ago. He explained JEI HQ has always been a family to them, thanks in part to his mother's teachings:

"My mother taught me to be nice to the people you work with. She taught me a long time ago that when we have meetings, we have to sit there, understand one another, listen to one another, and then advise and help one another.
Our Southern California regional meetings are very comfortable and make me feel very at ease. We do listen to one another and talk to one another, so I think that for the most part, from the JEI HQ side to us, our family has grown a lot. Now that I'm the Director, the connections [my mother] has made with other center Directors have passed on to me, and we just act like we are family."
Even now, he is happy about how supportive JEI HQ is, enthusing about working closely with staff on the West coast who help in any way they can. Augustine said:
"It's been two years since I've become a Director, but JEI HQ has really helped me to not give up on myself. This is obviously not the easiest job, trying to improve students' skill sets. It's challenging because for everyone who walks through that front door, we have to learn to be not only their Director but also their friend. We have to assist them and make them feel comfortable, especially when they have to work hard. This is something I learned from trying to become a better director and from my mother who has done this for many years. I'm very thankful I have someone like her to keep me going."
Augustine went further into how they have a strong sense of camaraderie not only with the JEI HQ staff but also with their local community of Valencia. Improving children's study habits has helped the parents/guardians there trust and believe in them, which is why they bring their child there every month. He said:
"We want them to fully trust us. We have a strong product line, and we highly believe in that. If I didn't, I wouldn't be director after [my mother]. All of us feel like family, because [the parents/guardians] treat us with a lot of respect and gratitude for helping their children everyday ."
On top of that, Augustine is a first-generation student, as he attended his mother's center throughout his childhood! He is the earliest example of a successful JEI student who dedicated himself to lifelong learning. This unique experience gives him advantages like understanding the program from the perspectives of both a student and Director and noticing what has improved since his days as a student! For example, the workbooks have become a lot more colorful and fun for children to engage in. He added:

"I actually did the workbooks [as a student], so I thoroughly know the ins and outs of helping [our students] use them. That is an advantage I have, and parents can see that from me, as well. There's a trust factor in me as a Director, more so because they know I did the books when I was young and can help their child more in that way."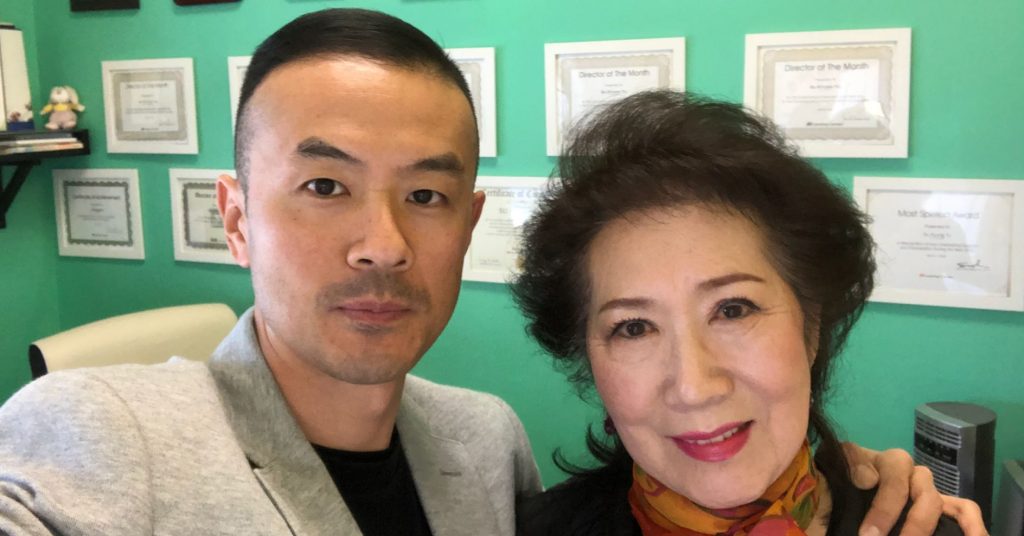 In Mrs. Yu's case, she really understands the pride that JEI parents feel when they see their child excel: "We were really happy to see kids bring in good results or awards after several months and to hear good things from their parents. They were improving, getting awards, and hearing good things from the school; that was the best part."
Augustine agreed with his mother that some of the best memories he had as director was seeing each child take small steps toward improvement with the individualized program. He also remembered a time a local school recommended one of their struggling students attend his JEI Learning Center. He noted, "That's a cool memory, when the community knows it can depend on us . . . That's just a very good moment for us, not how much we make in a year but what we can bring to the table and make a difference for each child."
For current or potential JEI franchisees, Mrs. Yu has plenty of advice to share! She said she knows how good the JEI programs are and that other Directors know this, as well. She advised that they trust in that and never give up:

"Please do not give up when difficult things come up. Be nice to the parents and children. Give them a lot more than what you think you can, so that you continue to make a difference in kids' education. You really have to keep going on, and if there are any difficulties, you can overcome them by working with the kids and always working together. Please do not give up. This is the best work we can do for life."
Augustine adds:
"My mom's perseverance is really high. She really did not give up, and that's what helped us to keep going. Someone dear who's passed, Kobe Bryant, said it is the journey, not the destination, and that's something that has really resonated with me because I realized that if you're looking for a destination, like awards or something great handed off to you, that is not something we believe in. For us, it's the journey everyday with the kids coming in. For us, it's that journey to make everybody's dreams come true. That's something that we hope to pass down to other franchisees: just to work on the everyday process of how to make yourself better and not give up."
Nothing is more rewarding to Mrs. Yu and Augustine than having parents excitedly come through the door and students talk about advancing in school! We thank them for believing in JEI Learning Center and helping thousands of young learners over the last 28 years.
We also thank all of the directors who have joined us over the years to spread the JEI brand and enrich our students' lives with their dedication to education. Let's continue the journey, grow our community, and support one another! As Mrs. Yu says, have faith and never give up!
Happy 28th anniversary to JEI Learning Center!