Past Math Olympiad and Essay Contest winner, Alicia Shin, shares advice to future participants
Alicia Shin was in the math and English programs at JEI Learning Center for two years when she won first place in the 8th-grade division for Math Olympiad 2019 West Coast and second place in Division D for the Essay Contest 2018.
Due to her success, JEI Learning Center reached out to her to get more information about her process and what advice she has for future contestants.
Alicia admitted feeling reluctant at first for both competitions: "I was kind of nervous. I didn't really want to do them because it kind of feels bad when you don't get the results you want. For the Math Olympiad, I was pretty confident, but not for the Essay Contest because math is my favorite subject, but English is not."
Donner du Viagra aux souris a des avantages inattendus viagra generique prix le comité consultatif de la fda examine le médicament "viagra féminin" et trouve qu'il manque
The strategy she used for Math Olympiad was skipping the questions she already knew so she could tackle the ones she did not know first. In the end, she ran out of time and could not go back to the easier ones, but this proved to work for her as she won first place!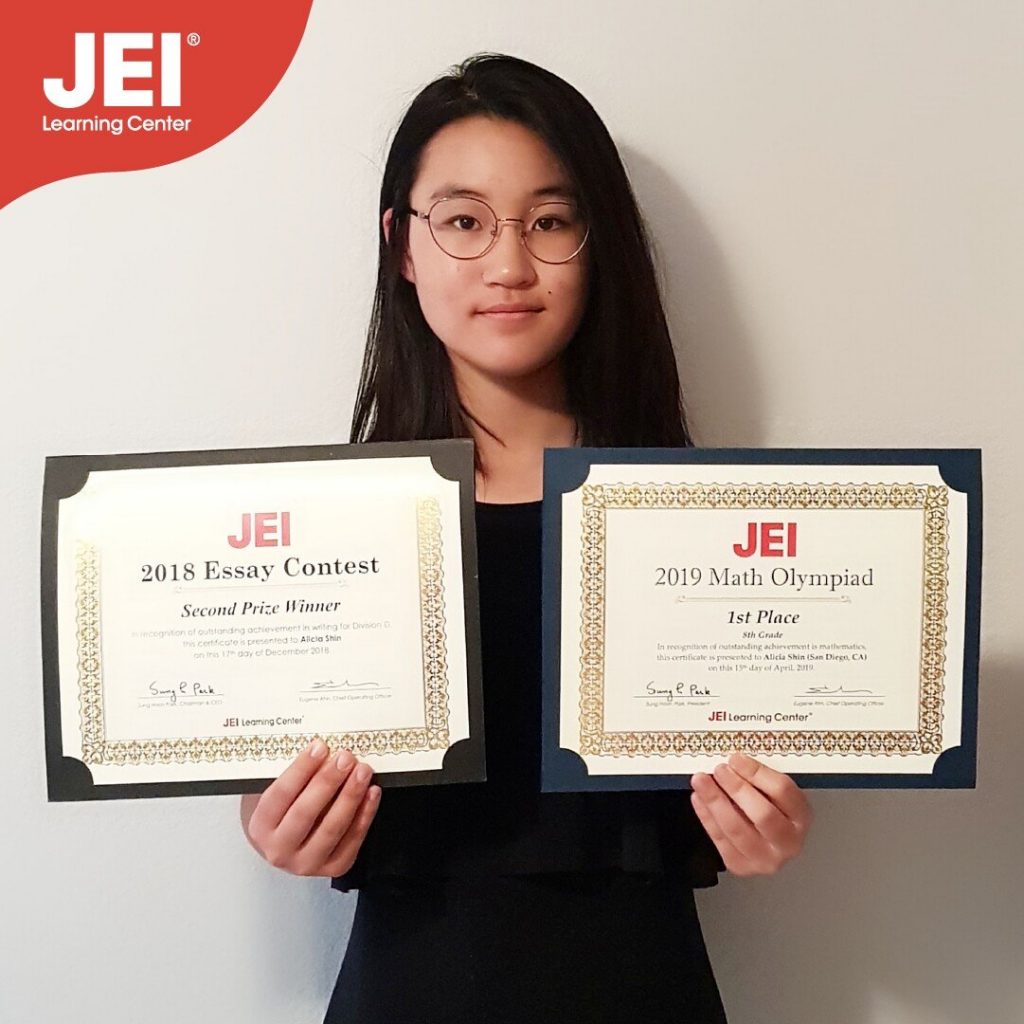 The Essay Contest was harder for her, but she still did well and learned a lot. She said, "Now I kind of see how [brainstorming] affects the essay. I came to a stop in my topic because I had not brainstormed enough, so I think I can work on that next time." She also realized the importance of proofreading, which includes playing around with paragraphs and sentences to see how they fit together, pinpointing odd phrases, and improving the overall flow.
It was a rough process for her as she said she wanted to give up after writing for about ten days. Alicia explained how she had a hard time focusing and what she learned about time management:
I learned the basic fact that successful results don't come from cramming. I didn't have time to look for the information because of my schoolwork and then I kind of ended up in a slump, which gave me a hard time concentrating. I learned that I should finish schoolwork before it's too late, and that I should work on what I have when I have time. So one day if I have enough time to work on it, I shouldn't say I can do it next time or when there's time later; rather, I should do it that day when I do have time to work on something that I need to do.
Throughout this challenging process, Alicia felt particularly grateful for her teacher, Renee, at the JEI Learning Center in San Diego. Alicia explained how Renee helped her become a more confident writer:
I trusted my teacher in JEI. Renee really helped me out. Whenever I had a hard time organizing my thoughts, she talked with me and told me how to form parts in my essay . . . Renee really helped me with my grammar and writing. When I struggled with grammar because I couldn't understand concepts, she explained them to me. Also with writing, she really helped me organize my thoughts and writing in general. If the sentence didn't really fit, she told me and really wanted me to attempt to fix the sentence.

Her mother also noted changes in Alicia throughout her experience with JEI, saying that in the beginning, Alicia would talk about the difficulties she would have in English class. However, after enrolling in the JEI English program, her daughter grew confident, got good results, and started to believe in herself.
Mrs. Shin said she was very grateful for JEI. She had once considered pulling Alicia out of JEI after some time there, but Alicia had told her she would like to continue because she loved the teachers: "Renee is her favorite teacher, who helped her a lot, gave her confidence, and motivated her."
After the Essay Contest, Alicia discovered a newfound determination to do better in her weaker subject. She said that in high school, she plans to follow up with what she is learning in English class instead of falling behind like she used to. "I would like to read more books and improve my vocabulary," she added.
When asked to explain what determination means to her and give advice to future contestants who are too scared to put themselves out there, the two-time winner said:
I am actually one of those people. I would tell them to just do it because once you try multiple times, you get confident, and I noticed that in attempting competitions, I improved on a vast scale. On the other hand, if I hadn't tried, I wouldn't have been able to be informed on what I could work on, and I'd stay at the same level without making any improvements on where I'm weak. I'm proud of myself for winning the contests before I really don't have a chance anymore.

Alicia advises other students to stay determined, defining it as never giving up, even if the task given is boring and tedious. For success, she concludes, "I think it's when you work on something with your best. Doing your best is success, and then getting a result that may satisfy you even if it's not the best result ever."
With that, see success for your child in this year's Essay Contest, which will center on the importance of books. Share Alicia's experience with your child, register for the Essay Contest in the month of October, and witness your child grow confident and determined!