JEI Livingston dominates JEI Essay Contest with determination and encouragement
The JEI Learning Center in Livingston, NJ is home to the most JEI Essay Contest winners of 2019. Director Julia Guo explains how she runs her center with dedication, motivation, and encouragement so that students can strive to be their best selves.

At our JEI Learning Centers, the greater trend seems to be a focus on math skills, with hundreds more of our students turning out for the Math Olympiad than the Essay Contest every year. You may wonder why a director coming from a science background diverged from this trend to produce the most JEI Essay Contest winners out of all the centers, but that is exactly what this director did.
Director Julia Guo of the Livingston Center came to the United States 32 years ago, graduated with a PhD in Biology at New York University, did her postdoctoral training at the Massachusetts Institute of Technology, worked as a Senior Scientist at Merck for ten years, and conducted research at a New York hospital for another eight years before opening her JEI center in 2014. With this track record, you may be surprised to hear Julia's center has the most students enrolled in the JEI Reading & Writing program, yet this is the fifth Essay Contest in a row in which she had not only the most participants but also the most winners.
Guo explained in an interview with JEI:
"As a research scientist with a PhD, I realized how important writing and presentation skills are in career development, so I decided to focus on improving students' writing skills as the primary goal of the center. Good reading and writing skills build students' self-confidence. Writing is essential for every subject students take in middle school, high school, and college. Clear writing is clear thinking, so the better they can express themselves, the better they can share their ideas, opinions, and arguments. Good writing skills leave a lasting impact on children's self-learning, school performance, and career."
To achieve her goal, Guo conducted an extensive search to hire the best teachers she could find, then collaborated with them to perfect coaching strategies. Guo advises other centers and parents alike to enroll students in both JEI English and JEI Reading & Writing together to build a strong Language Arts foundation with grammar, vocabulary, syntax, and sentence composition. She likened the process to becoming a great chef: while JEI English is all about perfecting the skills and gathering the right ingredients, JEI Reading & Writing is about putting those together to actually cook the meal.
She also said that students should read many books, start to study writing as early as the second grade, and practice daily because strong writing skills take years to hone. On average, Guo said she saw students make the most significant growth after they were in both programs for two years, recalling one particular fourth grader who struggled for a year and nine months before it clicked and she started to write beautiful essays. All of her Essay Contest winners were long-term students who had been with her for three to five years. The best thing about the JEI Self-Learning MethodⓇ is that all of her students will continue perfecting their writing skills and learning for life, even after graduating from JEI programs.
Because it can take some time to produce results, it is natural for students to grow disheartened and want to give up, but Guo has a remedy for that, too: "When students struggle, I always encourage them, saying that it takes a while, and at the end, they will do a great job. I constantly speak with many students one on one to encourage and coach them to stay positive, persistent, and enthusiastic. I know that each student will improve no matter what." She also emphasized the importance of spending time with the children's parents, so they understand the process and how long it may take.
When students start doing well, Guo does not let them grow complacent. They move on to the next level when ready, and this involves higher expectations and more personalized essay feedback. All of this has led to more confident, knowledgeable students as well as grateful parents who tell her that their children participate more in school and love to learn.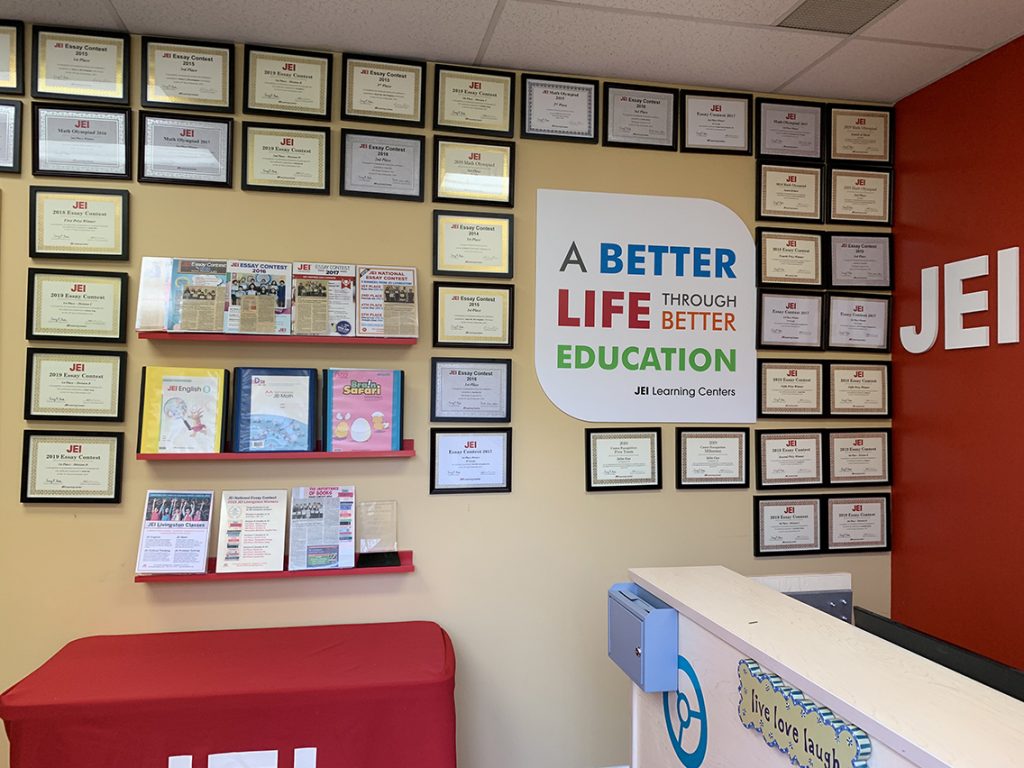 Guo gets all of her JEI Reading & Writing students involved in the annual JEI Essay Contest, even if they aren't participating. She incorporates that year's writing prompts into classes and even hosts workshops and celebratory events which help to boost morale and confidence throughout her center. During the annual awards ceremony, students present on the importance of writing, encouraging other students to want to be more active and engaged in writing and academics. One student's 4-year-old sibling even said, "I want to do better. I can do that!"
Guo added, "Besides the annual JEI Essay Contest, I have encouraged and arranged for students to submit to the Scholastic Art & Writing Awards. I will continue to devote my effort to encourage students to participate in other writing contests to get national recognition for their writing skills." She is seeing great success so far! Livingston student and Essay Contest winner, Joyce He, placed Silver for the Scholastic national writing competition. Many other students of Guo have also placed gold, silver, and honorable mention in regional and national levels for this competition.
Guo's strategy and beliefs about encouragement, persistence, and daily practice are in complete alignment with JEI Learning Center's philosophy for all students. We again congratulate Guo and the students at Livingston for performing well and challenging themselves through the Essay Contest. We extend these congratulations to all the centers and students who put their best foot forward in their journey toward lifelong learning.
Want your child to improve as much as Guo's students have? Look for a JEI Learning Center near you for our State Standards-aligned programs and annual competitions. Your child could be the next JEI Essay Contest winner with the hard work and skills we pass onto all of our students!